About Centre
AKGEC – Fronius, Advance Welding Technology and Research Center (AWTRC) has been established in collaboration with Fronius International GmbH, under the aegis of AKGEC Skills Foundation at Ajay Kumar Garg Engineering College Campus, Ghaziabad. The major objective of the center is to develop state of art infrastructure for becoming a globally recognized source of competent workforce and offer cost-effective, superior-performing Industrial Solutions by conducting training, research & development and consultancy in the field of welding science, engineering and technology.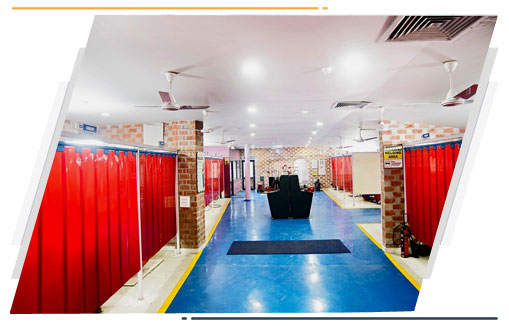 The center is equipped with state of art Digital Inverter based, Fronius Arc Welding power sources covering SMAW, GMAW and GTAW processes along with Simulators for developing the motor skills required to learn welding. Advanced arc welding power sources such as Synergic Pulse GMAW setup and Cold Wire Transfer GTAW setup are also available. It has 25 nos. state of art welding stations, fitted with Nederman make Fume Extraction Systems, Central Gas Manifold System commissioned by Messer Cutting Systems for supply of shielding & cutting gases, Customizable Welding Trainer Tables, most suitable for effective learning of welding in all positions, Modular Welding Tables with modular fixture set for accurate positioning of workpieces. The center also has a dedicated thermal cutting section which includes Gas Welding, Brazing & Cutting setup along with a state of art Messer CNC Plasma Cutting Machine.
Destructive Testing facility is available for performing the strength, hardness, toughness, macro / micro testing of welds and Non-Destructive Testing facilities for performing Magnetic Particle Testing, Liquid Penetrant Testing, Ultrasonic Testing, Eddy Current Testing and X-Ray Film Interpretation of weld defects also exists.

Services
AKGEC FRONIUS-AWTRC is committed to provide overall solutions to the industries for improving the quality, productivity and competitiveness in the field of welding, thermal cutting and inspection technology. Some of the specific industrial services offered in the above fields are mentioned below.

Non Destructive Testing
Liquid Penetrant Testing
Magnetic Particle Testing
Ultrasonic Testing

Laser and Plasma Cutting
Manual Plasma Cutting
CNC Plasma Cutting
Laser Cutting

Fabrication
Thermal Cutting
Welding/Brazing/Oxyacetylene
Finishing(Burr Removal Machine/Grinding)
Infrastructure
AKGEC-FRONIUS AWTRC is equipped with world class infrastructure having 25 welding stations, covering all the industrial arc welding processes, supported by a Thermal Cutting and Non-Destructive Testing facility.
Certification
In order to meet the demand by industry for welding and inspection personnel's, trained and certified to a level of competency commensurate with the requirements of any of the qualification & certification specification or codes, the centre offers AKGEC-FRONIUS certification from the level of welders, technologist to welding engineers and inspectors.
Along with it, the centre also proposes to offer ASNT, AWS, IIW-INDIA, CGSC, ASDC, TUV Rheinland certifications to the trainees after their assessment as per the requirements of these bodies.
Projects
AKGEC FRONIUS-AWTRC lays a strong emphasis in undertaking Industry projects in the field of welding and fabrication technology with an aim of solving critical issues faced by the Industries during welding of various metals and its alloys.
Success Stories
Candidates trained at AKGEC FRONIUS-AWTRC have been successfully employed in various organizations. Some of the success stories shared by the trained candidates from technician to engineer level is presented herewith
Photo Gallery
AKGEC FRONIUS-AWTRC is having a large number of memories in its gallery. Its photo gallery has been compiled starting from the MOU signing and covering various programs, events, eminent guest visits etc.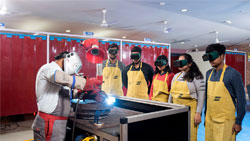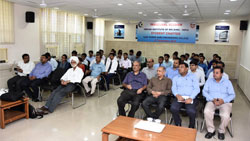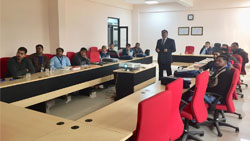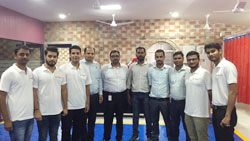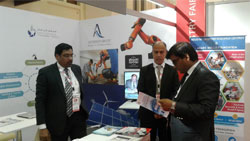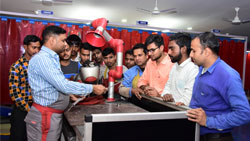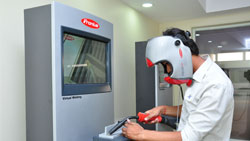 On-Campus Facilities
The trainees enjoy comfortable stay with 24 hours power back up & unlimited Internet facility including nutritious food on payment basis. The facility is endowed with good lighting and sufficient ventilation.

CANTEEN

FAITH CENTER

GYM

LIBRARY

SPORTS

WIFI

BOYS & GIRLS HOSTEL
GUEST HOUSE